GWN7624
GWN In-Wall Wi-Fi Access Point
The GWN7624 is an in-wall Wi-Fi access point that includes three Gigabit network ports, 2 which provide PoE, to provide internet connections and power for devices such as IP phones, computers, TVs and more.
2.03 Gbps wireless throughput and 4 Gigabit wireline ports 5GHz 4×4:4 MU-MIMO
Supports up to 200 concurrent Wi-Fi client devices
Advanced QoS to ensure real-time performance of low-latency applications
Anti-hacking secure boot and critical data/control lockdown via digital signatures, unique security certificate/random default password per device
Self-power adaptation upon auto detection of PoE or PoE+
Embedded controller can manage up to 30 local GWN series APs;
GWN.Cloud offers unlimited AP management; GWN Manager offers premise-based software controller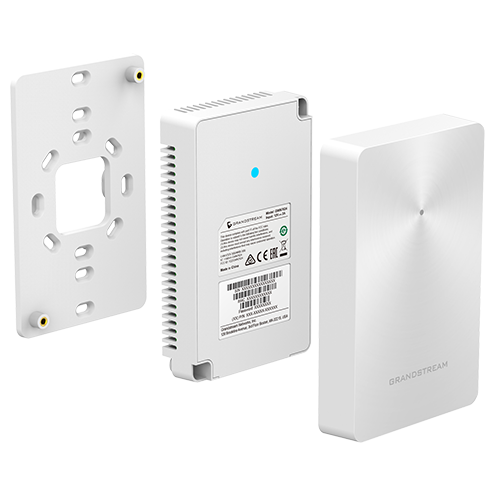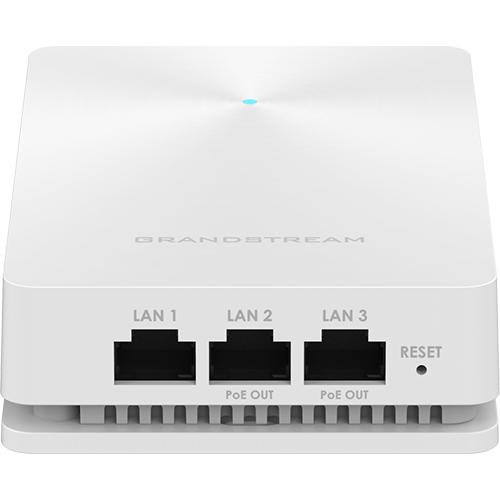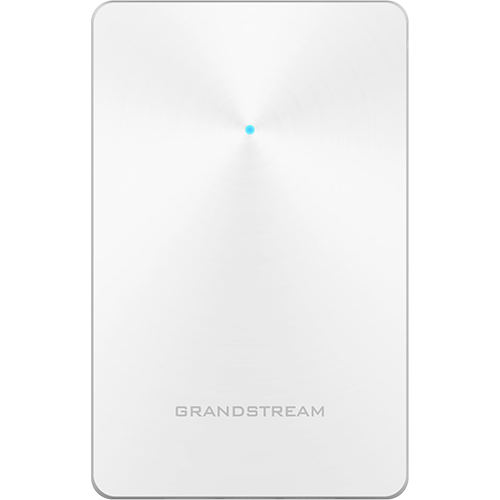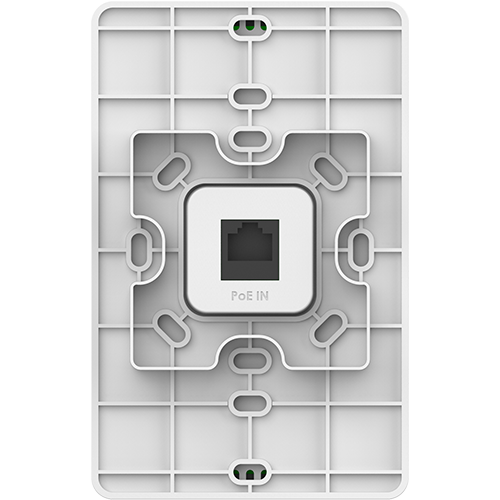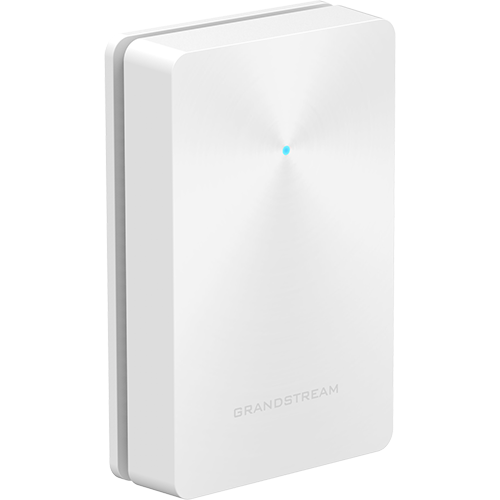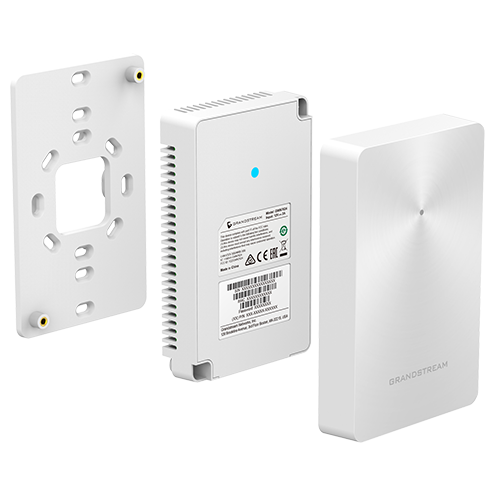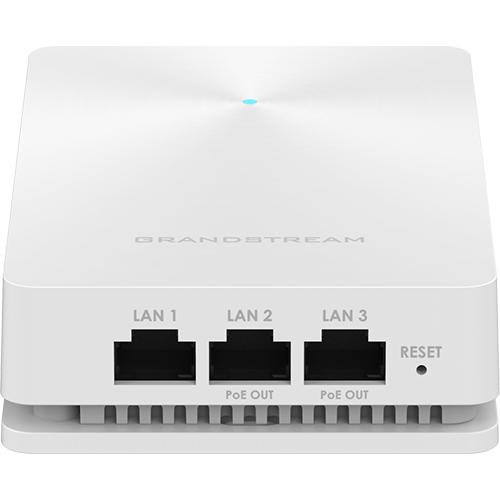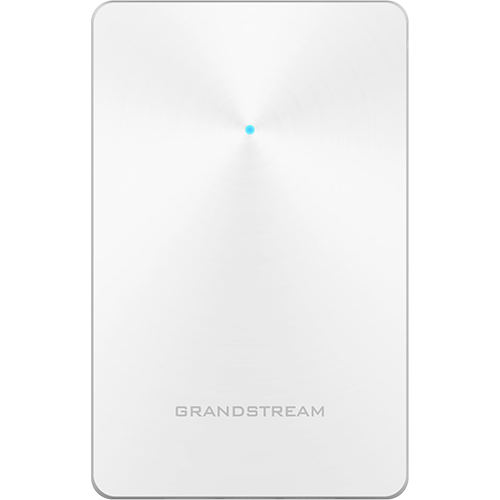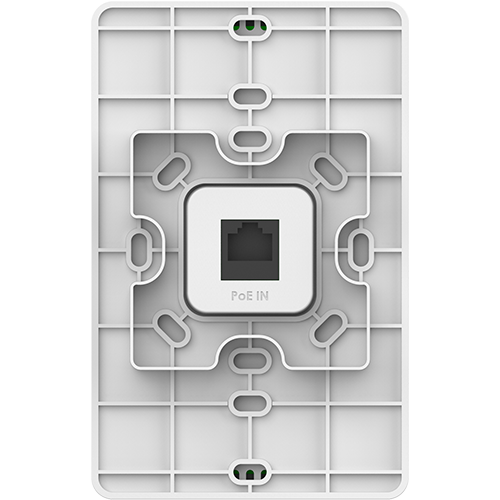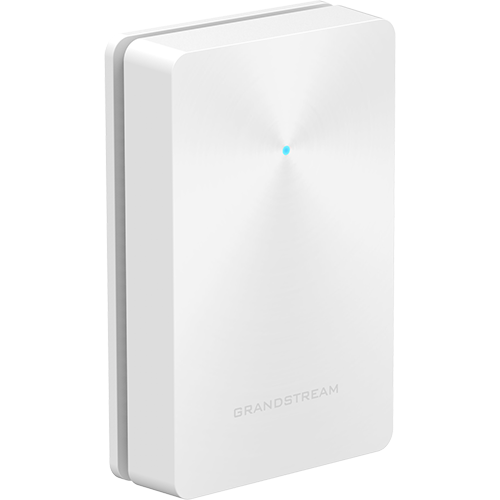 Free Network Management Options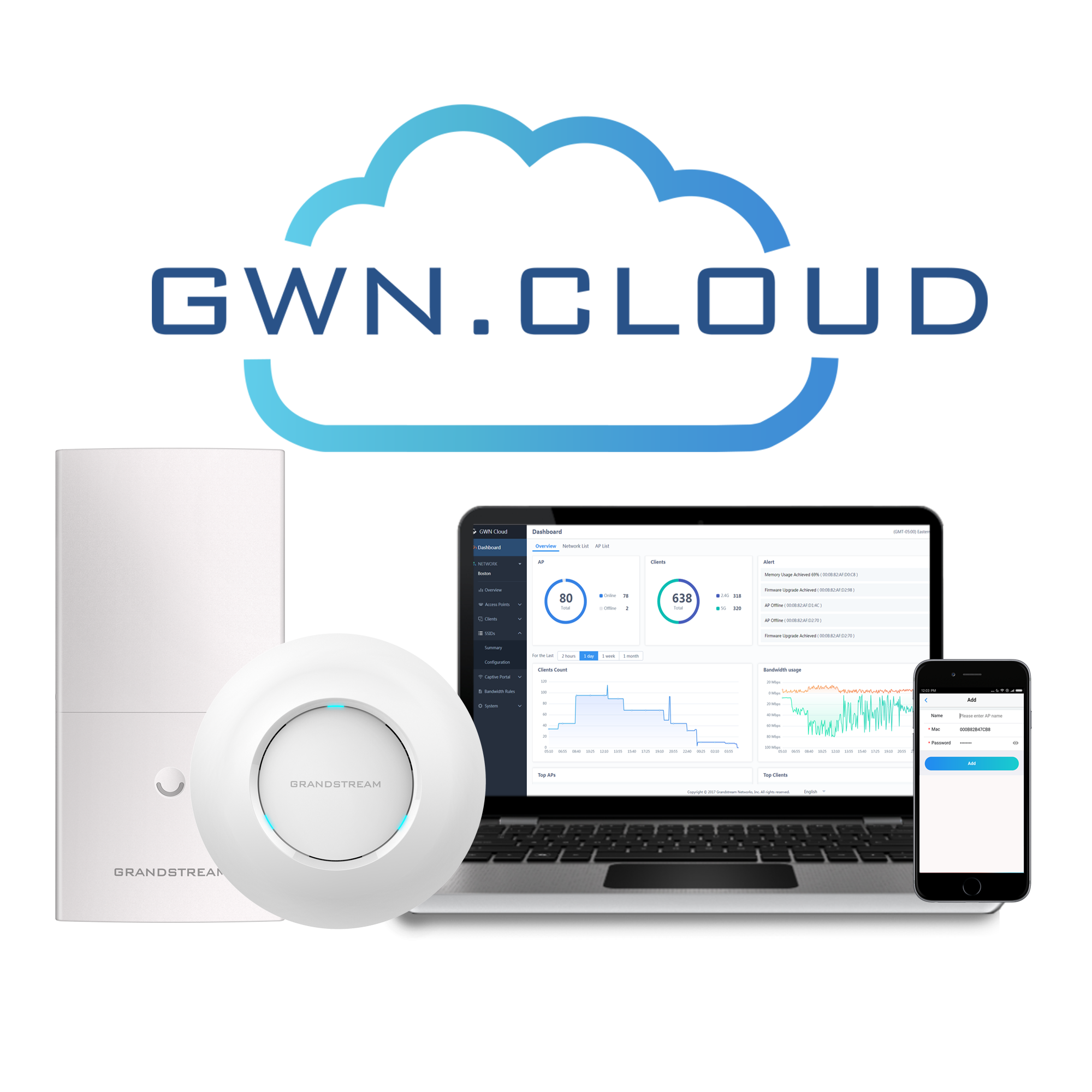 GWN.Cloud
GWN.Cloud is a enterprise-grade, management platform for Grandstream networking products. Secure networks can be deployed in seconds using GWN.Cloud mobile app or the web browser interface, then later managed from the same interface. Keep an eye on the network's performance with real-time monitoring, alerts, statistics and reports that can be viewed using a web browser or the mobile application, then later managed from either interface.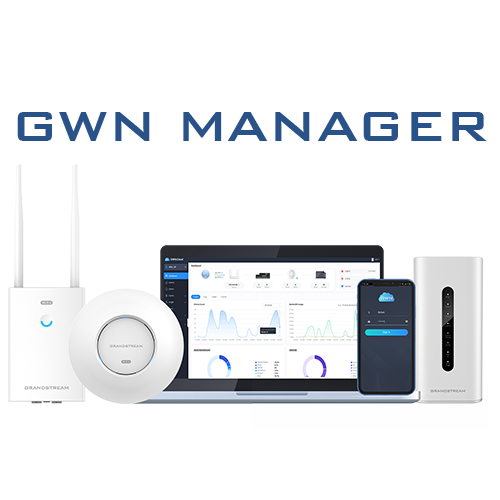 GWN Manager
GWN Manager is a on-premise enterprise- grade, management platform for an unlimited number of Grandstream networking products. Typically deployed on a customer's private network, this solution offers simplified configuration and management. Keep an eye on the network's performance with real-time monitoring, alerts, statistics and reports that can be viewed using a web browser or the mobile application.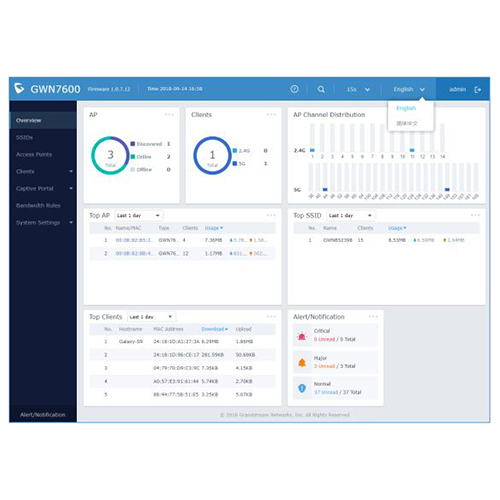 Embedded Controller
Grandstream's GWN networking products include an embedded controller software at no extra cost and it is simply built-in to the product's web user interface. Our embedded controllers can auto discovery and auto-provision any in-network GWN series networking product which also offers a centralized provisioning and management interface.

Electric Avenue Case Study
Electric Avenue Music Festival is regarded as New Zealand's biggest and boldest music festival featuring 50 artists, 5 stages, and 12 hours of music and art performances. This festival happens in one of New Zealand's biggest cities Christchurch at the iconic Hagley Park which is situated in the heart of the city. The festival took place on Feb 25th, 2023, with over 30,000 people in attendance to witness this spectacle of music and arts.
The GWN7624 catered to key management personnel who were situated in an indoor space with dense walls and played a pivotal role in coordinating the event.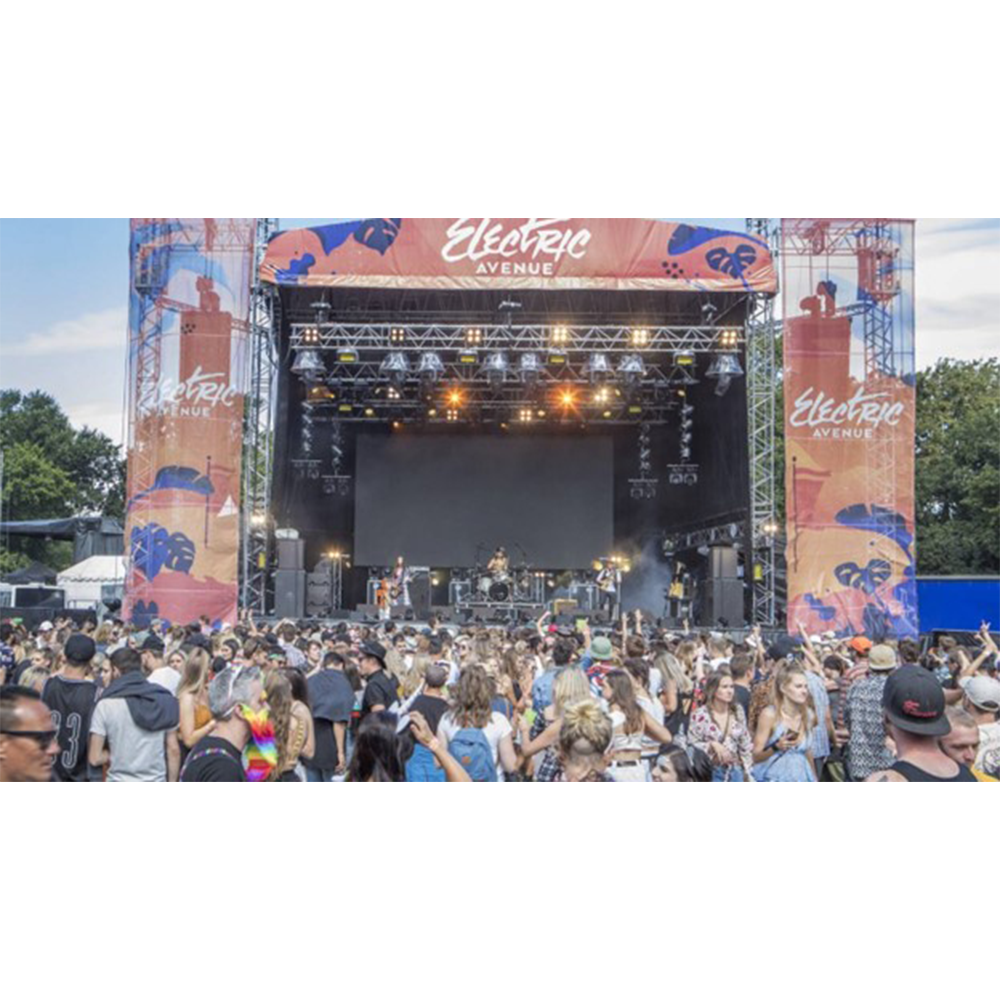 Affordable and Powerful
The GWN7624 is a competitive Wi-Fi device that was designed for a low price point with high performance, perfect for more cost-sensitive and mid-volume Wi-Fi deployments like cafes, lecture halls, and offices.
Retail Price: Competitive models of similar capabilities priced well above the GWN7624
Market Leading Wi-Fi Standards: IEEE 802.11a/b/g/n/ ac standards, this supports past, present, and future Wi-Fi devices
Greater Performance for Less Money: 200+ concurrent devices, 2.02Gbps aggregate dual-band throughput
PSE Network Ports: Three network ports with 2 PSE providing ports make the GWN7624 an ideal deployment device for hotel rooms, executive offices, and similar use cases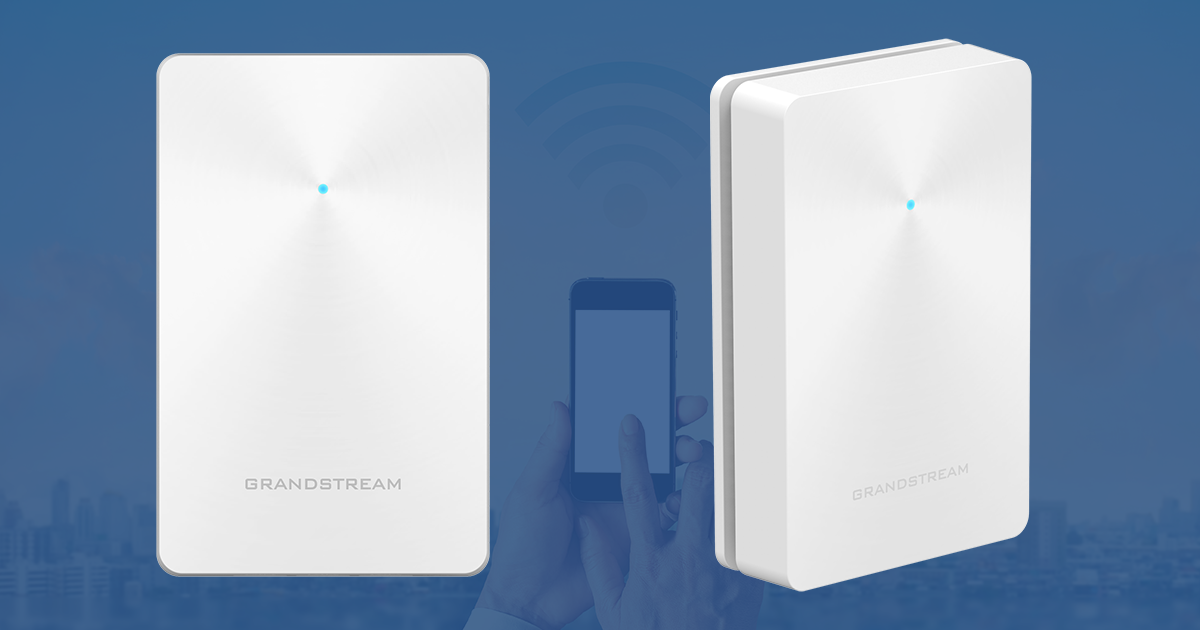 GWN Config & Deployment Webinar
Watch this pre-recorded webinar presented by the Grandstream support team which covers the initial training and configuration for GWN series access points. It will provide some basic recommendations on how to plan and optimize your wireless network.
Interested in GWN certification trainings? Visit Grandstream Academy to register for self-guided Networking training today!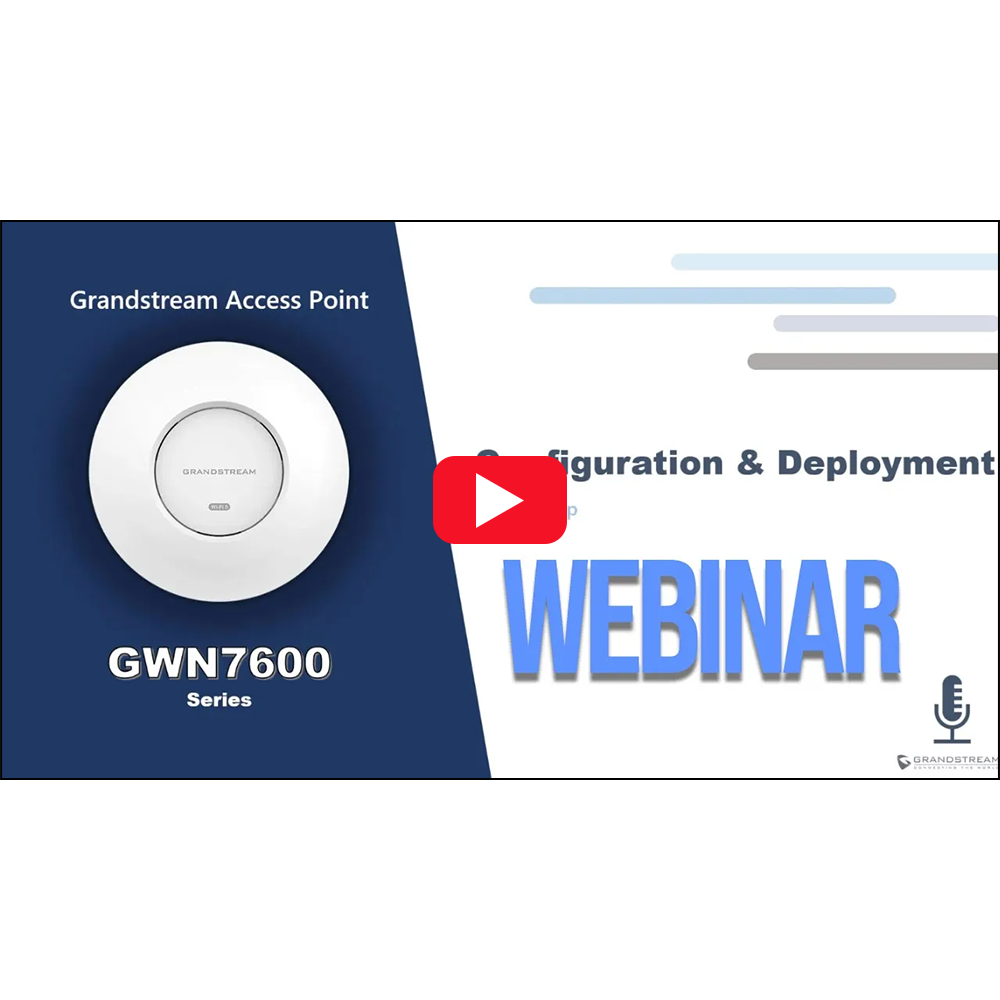 Name
GWN7624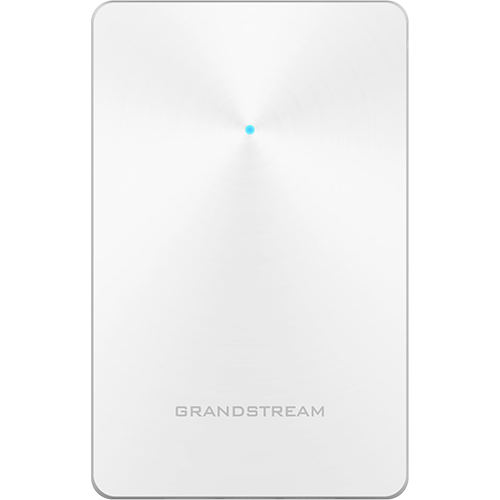 Specs
Client Devices
200+
Range
Up to 175 Meters
Network Interfaces
1x 10/100/1000M uplink Ethernet port with PoE/PoE+ 2x 10/100/1000M Ethernet port with PSE 1x 10/100/1000M Ethernet port
PoE/PoE+
Support 802.3az; PoE 802.3af/ 802.3at; PSE Maximum Output Per Port: 6W; Maximum Power Consumption: 25W
2.4G Throughput
300Mbps (2x2:2 MIMO)
5G Throughput
1733Mbps (4x4:4 MU-MIMO)
Wi-Fi Standards
IEEE 802.11 a/b/g/n/ac
SSIDs
16 SSIDs total, 8 per radio (2.4Ghz and 5Ghz)
Antennas
Two 5G & two double frequency internal antennas
Wi-Fi and Security Systems
WEP, WPA/WPA2-PSK, WPA/ WPA2 Enterprise (TKIP/AES); WPA3, anti-hacking secure boot and critical data/control lockdown via digital signatures, unique security certificate and random default password per device
Dimensions
135x86x38.5mm
Mounting
Wall Mountable
1.17Gbps aggregate wireless throughput, 1x Gigabit and 3x 100Mbit wireline speed
Up to 100 meters coverage range
Self power adaptation upon auto detection of PoE/PoE+ and PSE
Anti-hacking secure boot and critical data/control lockdown via digital signatures, unique security certificate/random default password per device
Support up to 80 Wi-Fi client devices
Advanced QoS to ensure real-time performance of low-latency applications Anti-hacking secure boot and critical data/control lockdown via digital signatures,
1.77 Gbps wireless throughput and 4x Gigabit wireline ports
Dual-band 2×2:2 MU-MIMO with DL/UL OFDMA technology
Supports up to 500+ concurrent Wi-Fi client devices
Self power adaptation upon auto detection of PoE or PoE+
Advanced QoS to ensure real-time performance of low-latency applications
Anti-hacking secure boot and critical data/control lockdown via digital signatures, unique security certificate/random default password per device
Embedded controller manages up to 50 local GWN APs; GWN.Cloud offers unlimited AP management, & GWN Manager offers on-premise software AP management
2.03 Gbps aggregate wireless throughput and 2x Gigabit wireline ports
Dual-band 5GHz 4x4:4 MU-MIMO and 2.4GHz 2x2:2 MU-MIMO technology
Self-power adaptation upon auto detection of PoE or PoE+
Support 200+ concurrent Wi-Fi client devices
Up to 175-meter coverage range
Advanced QoS to ensure real-time performance of low-latency applications
Anti-hacking secure boot and critical data/control lockdown via digital signatures, unique security certificate/random default password per device
Embedded controller can manage up to 30 local GWN series APs; GWN.Cloud offers unlimited AP management; GWN Manager offers premise-based software controller