Resources, Tools, and Training
Find everything you need to learn about Grandstream's portfolio of solutions here at our learning center. The Learning Center offers a single place where you can conveniently access educational resources, product documentation, helpful tools, training, and more. Whatever your level of expertise with Grandstream is, the learning center is a great place to access various materials and stay up-to-date on our products.
Key Resources
Browse through a library of resources where you can find rich information on VoIP, industry topics, and our Grandstream solutions.

Technical Documents
Explore our technical documents covering anything from Grandstream how-to-guides, specific integration guides, quick user guides, etc.

Technical Training
Access technical training through the Grandstream Academy and a large video library of training webinars that cover a wide variety of topics.

Key Resources
Access important resources that are stored across our website. From product technical documentation to online trainings and our blog. The sections listed below are consistently updated with new material to help you stay up-to-date with our solutions.
Helpful Guides and Other Resources
This section contains recently made guides and helpful resources to assist you in learning about and deploying our solutions. We're constantly releasing buyer's guides, deployment instructions, how-to materials, and more. Check back here regularly for more comprehensive content pieces.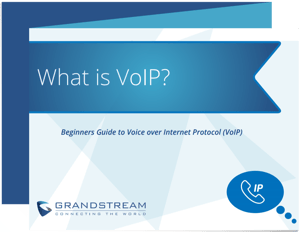 Communication is a fundamental part of doing business. The day-to-day workload, special projects, and collaboration all rely on powerful technological devices to enhance the way we work together. Voice over IP (VoIP) enables organizations and users to take advantage of impressive unified communication solutions.

Whether you're a seasoned VoIP veteran or just getting started with your first deployment, it is important to be knowledgeable in the basics. Our Intro to VoIP guide provides you with an in-depth look into VoIP's benefits, features, and how to create a successful unified communications network with VoIP technology.

Provide your information below to download the eGuide, we'll also send you a copy to your inbox so you'll always have it at hand.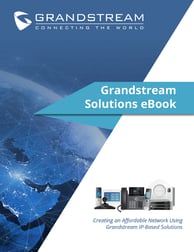 A huge factor for business success and growth, for any size company, is enabling employees to be as productive and responsive as possible. Previously, only large enterprises possessed the vast purchasing power required to adopt new technology for improved communications and workplace efficiency.
Grandstream's Unified Communications Solution eBook will:
Provide an in-depth resource about Grandstream's full portfolio of UC devices
Outline how our solutions can be leveraged in example deployment scenarios and highlight key features and capabilities
Be an ongoing document that can be referenced for your future Grandstream deployments and assist you in explaining potential benefits to your clients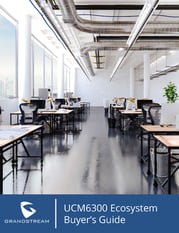 We created our comprehensive twelve page UCM6300 Ecosystem Buyer's Guide to help you understand the benefits and use cases for Grandstream's UCM6300 Ecosystem solution.
Learn how each piece of the UCM6300 Ecosystem solution comes together to provide a powerful onsite and remote deployment

Understand the key considerations when deploying a communications infrastructure and the competitive advantages that our solution delivers

Gain a complete understanding of UCM6300 Ecosystem to help you make a UCM6300 IP PBX purchasing decision and installation
The typical IT infrastructure and unified communications deployment are always evolving to fit the current needs of the modern office. IP PBXs, IP phones, facility access devices, security cameras, switches, and other devices all facilitate the transfer of information for the users within a business.
As workplaces embrace hybrid workspaces, mobile workstations, and greater reliance on Wi-Fi-compatible devices, Wi-Fi access points have become a staple for the typical IT deployment. Within this guide, we'll discuss the major advantages that Wi-Fi brings to your client's businesses and the features that you can leverage with Grandstream's wireless portfolio to create a competitive wireless offering.
Learn how a Wi-Fi deployment delivers increased productivity, simplifies an IT infrastructure, and increases customer satisfaction

Understand Grandstream's GWN Wi-Fi solutions, their advantages, and their features

Learn how to add Wi-Fi solutions to your portfolio and build a competitive solution for your clients
Highlighted Training Video
Remote Work Using UCM6300 Series Ecosystem: Technical Webinar
Learn all about Grandstream solutions for remote work. We will cover the brand-new UCM6300 series Eco-system- consisting of the UCM6300 series IP PBX, WebRTC, Wave app, and UCM RemoteConnect cloud service. In addition to providing a technical overview, we will demonstrate how to set up these solutions to connect remote workers.
Sign-up for our Newsletter
Stay up to date with Grandstream by signing up for our newsletter below. We'll keep you up to date on product launches, helpful guides, trainings, new tools, events, and more.